How about we – as Pilots and Dispatchers – work on solving the problem, instead of waiting for someone else to fix it?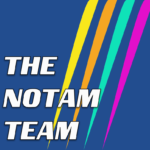 That's the core energy behind the Notam Team, and why we've created fixingnotams.org.
We're tackling a 55 year old problem – an outdated, archaic method of communicating critical flight information, that is becoming more broken with each passing month. And we're doing it differently. This marks the first time that a group of users have led the effort to fix Notams.
The Notam Team is a group formed by Pilots and Dispatchers that want to fix Notams, which started work in August 2019, and has a nine month lifespan – Do or Die.
We are working on ideas for a new Notam system, collaborating with designers, creatives, data specialists, and visionaries from other industries that have solved similar problems.
Who else is working on the Notam Problem?
ICAO IMP Notam Working Group
FAA Notam Improvement Team
Eurocontrol
The Notam Improvement Act of 2019 (US): If this bill is passed into law, it will establish an official Notam Task Force. This bill passed in the House on October 28, 2019 and goes to the Senate next for consideration. Follow the progress here.
Ideas
In the Notam Survey 2019 (by the Notam Team), 1,344 ideas and suggestions were made by Pilots and Dispatchers that understand the problem. A full report will be published shortly.
"Perfection is achieved, not when there is nothing more to add, but when there is nothing left to take away.

Antoine de Saint-Exupery

Pilot